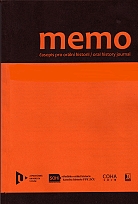 About the journal
MEMO – Oral History Journal focuses especially on the history of research using oral history and its application in teaching history. Prefered are the themes of modern history, especially history of totalitarian regimes, the history of the Second World War in memory of people, the history of everyday life in the 20th century, problems of minorities, regional history, history of historiography, biographies, also the modern oral tradition and folklore in the modern history of research. MEMO is a very open and obliging journal, we welcome any other related and interesting topics. The journal is included (from 2017) in the international scientometric and bibliographic databases ERIH PLUS and CEEOL.
Frequency:
The journal is published two times a year.
Editorial staff:
Editor-in-Chief: Doc. PaedDr. Naděžda Morávková, Ph.D.
Executive editor: Mgr. et Mgr. Marie Fritzová, Ph.D.
Editorial Board:
Joanna Bornat, Ph.D. (Faculty of Health & Social Care/The Open Univerzity, United Kingdom of Britain)
Prof.Prof. David King Dunaway (Department of English Language and Literature University of New Mexico, Albuquerque, USA)
Albert van Jaarsveld, Ph.D. (University of Zululand, KwaDlangezwa, South Africa)
Mgr. Michal Louč (Ústav historických věd/Univerzita Pardubice, ČR)
PhDr. Pavel Mücke, Ph.D. (Centrum orální historie Ústavu pro soudobé dějiny AV ČR)
Prof. Kathryn Nasstrom (University of San Francisci, USA)
Radikobo Ntsimane, Ph.D. (University of KwaZulu-Natal, Pietermaritzburg, South Africa)
Mgr. Taťána Součková, PhD. (Katedra etnológie a mimoeurópskych štúdii FF UCM v Trnave, SR)
PaedDr. Mgr. Miroslav Vaněk, Ph.D. (Centrum orální historie Ústavu pro soudobé dějiny AV ČR)
Other information:
Publisher: viaCentrum s.r.o. for The Center for Oral History SOHI – Department of History, Faculty of Education of University of West Bohemia in Pilsen
Graphic design: Petr Lobaz, Marie Marhounová
Contact: The Center for Oral History SOHI – Department of History, Faculty of Education of University of West Bohemia in Pilsen
Veleslavínova 42
Pilsen, Czech Republic
Contact persons: Nadezda Moravkova, Marie Fritzova
Tel.: +420377636603
Fax: +420377636612
E-mail: sohi@khi.zcu.cz; moravkov@khi.zcu.cz; mmaja.fritzova@gmail.com, fritzovamarie@gmail.com
©Naděžda Morávková
©SOHI, The Center for Oral History SOHI, Department of History, Faculty of Education of University of West Bohemia in Pilsen
©viaCentrum s.r.o., Ztracená 34, Olomouc, 772 00
Evidence MK ČR pod číslem E 19999
ISSN 1804-753X (Print)
ISSN 1804-7548 (Online)